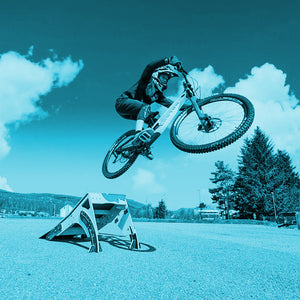 2.5 hours - Women's Only Group Lesson & Practice
Level 1+ riders with 2 years riding experience and a solid foundation of fundamental skills. (Not suitable for novice riders)

Session dates: 
No dates at this time. (email us to request this course)

---
NOTE: This course requires 2 years riding experience and a solid foundation of fundamental skills to attend. You must have a good neutral and ready position, active pressure control skills, and can confidently do front wheel lifts.

Learn to jump. Getting air requires a solid understanding of specific techniques and a progressive approach for safety and consolidation of skills.

All training is done in a controlled environment, using our ramps and if available appropriate trail features (table top) on local trails.
By the end of this clinic, our goal is to have you successfully clearing a 4-5 foot jumps (approximately 2 feet in the air) and landing safely and predictably. Participants are encouraged to learn at their own pace in this un-intimidating environment. You will leave this clinic well on your way to jumping better with a more thorough understanding of the mechanics of jumping your bike.

This is a GROUP lesson maximum 6 people.